I've decided that now is the time to try and get Emilie into a routine. The first six months with James was horrendous, awful reflux, poor sleeping and generally he was just a cranky baby. Just before he turned six months old I came across the Gina Ford, Contented Little Baby book and although I changed the routine to fit mine and James' lifestyle, literally overnight he turned into a different baby. He thrived on a routine and loved having structure.
Now I'm facing the same problems with Emilie minus the sleeping issues.. She sleeps through the night (minus last night.. Damn teeth..) She loves her daytime sleep but overall she is cranky.. I'm hoping that she too will thrive on a routine.. Fingers crossed.
Erin over at Love, Fun & Football is co-hosting No Spend January, which I've decided to take part in. The idea? You do not spend any money that isn't already budgeted for. No takeouts, coffee trips, clothes shopping, trips out that aren't already planned etc etc.. I'm loving this idea. Generally I don't overspend.. We don't have credit cards so if we don't have the money in the bank then we don't buy it.. What I am guilty of is deciding that I really need something and if I have the money then just going and getting it.. If I don't feel like cooking then I'll order take-away.. Silly little things really.. I'll be shopping and think.. "I really need a nice new notebook"... When in reality, I don't..
Anyway.. this month there are some purchases that I need to make.. James' birthday presents and Emilie needs a new cot.. They are the two big things which I cannot put off. Other than that though.. If it's not a bill, part of the food shopping or a purchase for the baby (nappies, formula etc.) Then I'm not buying it.
The link up is on February 4th.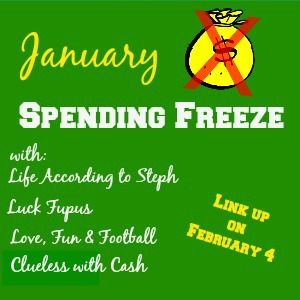 Right now, I'm pretty sure that my husband is chuckling to himself wondering if I'll be able to last the whole month! Lets see!