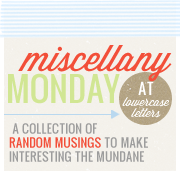 It's been so long since I done a Miscellany Monday. I believe my last one was the week before I found out I was pregnant! Since then I've been posting my weekly Emily updates on a Monday but I missed this link up. I like that I can get all my jumbled thoughts out and onto paper - or the laptop :) I'm still going to do my Emily update today, just in a separate post.
Yesterday started out as one of those days. I was tired, nauseous, un-motivated and ready to deem it a PJ day. Then I noticed that the plants on our window sil had caused compost to shed everywhere. Whilst cleaning it up, I was hit with a sudden burst of energy which resulted in me cleaning the fridge, mopping the floors, vacuuming everywhere, washing the bedding, cleaning the kitchen and playing with James in the garden. I love days where by the end of it I feel like I've been motivated and not just vegetated on the sofa. Which is so easy to do in your seventh month of pregnancy. It probably helped that the sun was shining away.
During my motivated spell, I watered all of the tree's in the garden and found these little babies on the Cherry tree.
Yep.. The beginning of fruit :)
This one starts back at Nursery tomorrow. Truth be told, he may drive me batty most days but I'm going to miss him! He only goes from 8.45am until 11.05am but that sometimes feels like an eternity. I cannot believe that he only has a few weeks left before he is done with Nursery forever. After the Summer holidays he will start school. This time last year I was freaking out at the thought of him being out of the house for 2 hours a day, let alone six!
Today is another busy day with another hospital appointment. Emily is definitely keeping me on my toes already and proving herself to be quite the diva!
Here's to another week.....