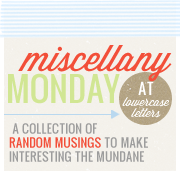 Write random and head over to Carissa's Blog to join in..
1 - I am going to be honest and admit that not having the Internet at home is really starting to frustrate me! I am having to post this once again from my iPhone. Normally if my phone is connected to the Wifi then it's fast.. When it's not, it's slow slow slow.. It takes several attempts to publish a post if it even publishes at all.. Tomorrow we find out from our new broadband provider when our new service starts.. I hope the date they give us is days away rather than weeks.
2 - Here in England we normally get snow once a year and it last for a few hours, adults complain and kids get to make a snowman before it all melts.. Not this year though.. It has pretty much been snowing since Friday. The weather reporters are calling it the "Beast From the East".. Something to do with a cold front coming in from Russia. Schools are closed today and it makes me laugh that we get a few inches of the white stuff and the country comes to a stand still.
3 - I took a few months off from writing my book. I needed to concentrate on some other things. I started again this weekend and although it took me a while to get back into the swing of it, I am glad that firstly I took the time off that I needed and even happier that I've started again. Now I just need to get myself into a routine.
4 - I have some photos on my phone to post but I'm going to have to do it at the end of this because it won't let me post them as and where I want to when using phone.
5 - Oh and lastly.. Not very newsworthy but I CAN NOT STOP EATING.. Ten weeks pregnant and I'm apparently eating for four..
I hope you're all having a great Monday!