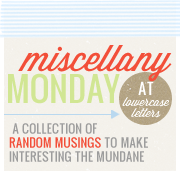 Since starting this series, I've missed my weekly link up's that I participate in so today I decided to tie my Finding Joy In The Everyday post up with the lovely Carissa over at
Lowercase Letters
for Miscellany Monday.
My Joyful Moments Today
1. Although I still have a cold & a horrendous cough,
today I am feeling so much better,
which is welcomed after a weekend of feeling like death.
2. Getting some awesome photos
of cobwebs this morning.
3. Actually using my camera,
it's so easy to pick up my iPhone to take photos that
sometimes I forget that I have an awesome camera
4. Taking an evening walk,
luckily we did not come across any other dogs
5. Picking James up from nursery
and finding out he had earned the 'star' badge because in his words..
"I was the best tidy-upper"
To read more posts in the Finding Joy In The Everyday series, please click here.