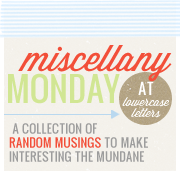 According to a quick search on Google, the first day of Autumn was this past Saturday. I believe it. Today the weather is cold, rainy, grey and miserable. It's nice to be sat in the house knowing that I don't have to leave again today. I just hope that the rain stops for the school run tomorrow morning.
Whilst I was searching on Google I came across this quote.
It is the summer's great last heat,
It is the fall's first chill: They meet.–Sarah Morgan Bryan Piatt
I loved that and thinking back, Saturday was exactly like that.. Sunny & hot but there was a chill in the air. My favorite season is here!
***************
We've had a busy weekend. September is full of birthday's for us and two of them fell this weekend, meaning 2 birthday parties in one afternoon.
James loved getting to spend time with both sides of the family. Luckily the parties were close to each other so we managed to make it work. Now we just have 2 more birthdays left this month!
***************
James was half excited and half nervous to go back to Nursery this morning. Last night as I was bathing him we talked about it. He was more worried about washing himself so he didn't get dirty at school.. It fascinates me how childrens minds work.
This morning he asked me if I was going to stay with him at school. I explained that I would come in with him and get him settled but then I was going to go and do some shopping but that I would be back for him at 11.30am. I honestly thought when I went to leave that there would be tears but thankfully his teacher distracted him well enough for me to be able to sneak out of the class.
When I picked him up he greeted me with the biggest smile. I think he's going to love it.. Me? I spent the whole morning feeling like my right arm was missing. I think it's going to take me longer to get used to than him.

Hope you all have a good week!