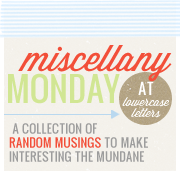 It always amazes me what will entertain a child. A bowl full of pegs and James is occupied for well over an hour..
Who needs expensive toys hey :)
************
Our friend brought his bouncy castle over on Saturday.. All the kids were in 7th heaven and I got some awesome photos..
That day my Sister and Brother-in-law took James to the beach. It was his first time there and apparently he loved it!! My Sister sent me this photo that she took.. I wish I had been there to see it but I was busy jumping on a Bouncy Castle...
When he got back I asked my Sister to bring him around the back so that the first thing he would see would be the Bouncy Castle.. I was there ready with my camera..
***************
Last night we had a massive thunder storm with torrential rain.. It was awesome! After it had finished I happened to glance out of the kitchen window and there were clouds like I'd never seen before..
All in all it was a good weekend! If you want to share your Miscellany Monday then go link up with
Carissa
!
Have a good week!