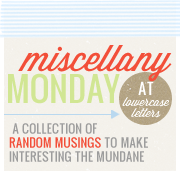 I am finally back on my feet! This morning I woke up and I can finally walk without being doubled over in pain. I am so glad! There is still a little bit of discomfort, especially when I pick James up but I think *fingers crossed* I am over the worst of it.
This morning in celebration I cleaned my whole house, done 3 loads of laundry and am planning on cooking a Roast Dinner! Anthony done a fantastic job of looking after James and he
tried
to keep up with the housework but I fully admit that I am a Type A personality and I like the cleaning to be done my way. I don't think I've ever enjoyed cleaning as much as I did today :)
***************
With being out of action for the past 5 days I have seriously neglected my camera and this makes me sad. It is sat on my Dining table looking all lonely so I plan on taking lots of photos this week and getting back into the swing of daily life!
***************
The incision on my arm is healing well but I keep having stabbing pains shooting through it.. I'm presuming it's just because it's healing.. There is a nice yellow bruise there too.
************
Anthony and James are out today so I think I'm going to change James' bedroom around as a surprise for when he gets back. Did I ever mention that I have an obsession with moving furniture around?? 
************
May Photo a Day Challenge, Day 7 - Someone That Inspires You
Tia Mowry.. Now I know I could've chose my Mum or my Nan because they are inspirational women but to me that is a bit cliche.. It's an obvious answer! So I picked the celebrity that inspires me the most!
Now, I'm off to cook a Roast Dinner!