It's my favourite time of the week! Miscellany Monday with
Carissa!
If you like random thoughts put into a coherant post then go link up too!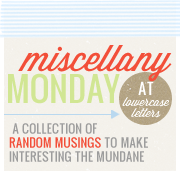 James walked out of the kitchen the other day like this...
Yes, that is the cardboard middle out of toilet rolls.  I have no idea where he found them but apparently they are now his binoculars. Off course I had to grab my phone and take a photo.
***************
This was the view from my window all day yesterday..
Honestly.. I didn't ever think it was going to stop raining. But this morning we have woken up to Blue skies and no rain! I think I'm going to take advantage of it and get James outside and playing. He's been cooped up for far too long.
***************
I realised yesterday that my doctors appointment isn't today. It's Tuesday. I was all hyped up and ready to have this implant taken out and I know it's only one day later but I was a bit gutted when I realised I had to wait an extra day! I've already been waiting nearly two weeks :)
***************
James doesn't sit still very often and when he does it's not for very long. Yesterday morning I was lying on the bed upstairs and he came up to sit with me. He ended up crawling onto my lap and thats where he stayed for nearly an hour.. Snuggles with this little man make me happy.
As do cold pizza breakfasts!
Looking back it was quite a good weekend!!